According to a report from Spanish newspaper Marca, Barcelona manager Pep Guardiola has informed players that he will be resigning from his post in the club this summer.
The news was reportedly broken to players this morning, with Guardiola informing the club in a meeting held this morning. This news comes after rumours circulated that the Spaniard wished to "take a break" from football following Barca's shocking semi-final defeat to Chelsea on Tuesday (April 24) and their El Clasico loss to Real Madrid at the weekend. A press conference concerning his departure is to be held at 12:30pm (BST) today.
Guardiola spent time in the home of Barcelona president Sandro Rosell last night (April 26), a meeting in which Rosell offered him funds to strengthen his squad in the summer. However, Guardiola stated that both he and the club would benefit from a change of managerial direction, and so refused the money and spent the rest of the day with his family.
Guardiola's illustrious career with the Spanish club resulted in 13 trophy wins including two Champions Leagues, three La Liga victories, three Spanish Super Cups, one Copa Del Rey, two UEFA Super Cups and two World Club Cups, with Barca also racking up an incredible 221 wins in 242 games.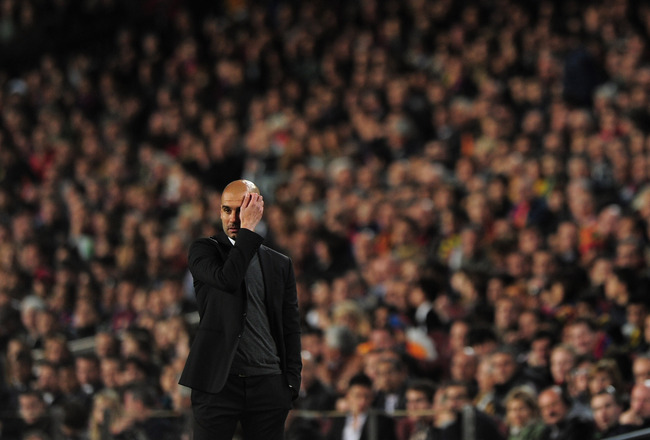 According to reports from tabloid The Sun the manager is interested in a move to England, with the currently vacant full-time position at Chelsea being a job that he may be interested in. Chelsea owner Roman Abramovich offered him a huge £40million to take the reins of the club last month following Andre Villas-Boas's departure, but Guardiola refused in order to continue his campaign with Barca.
However, it is likely that Guardiola will be putting his career on hiatus for at least a year to spend time with his family.